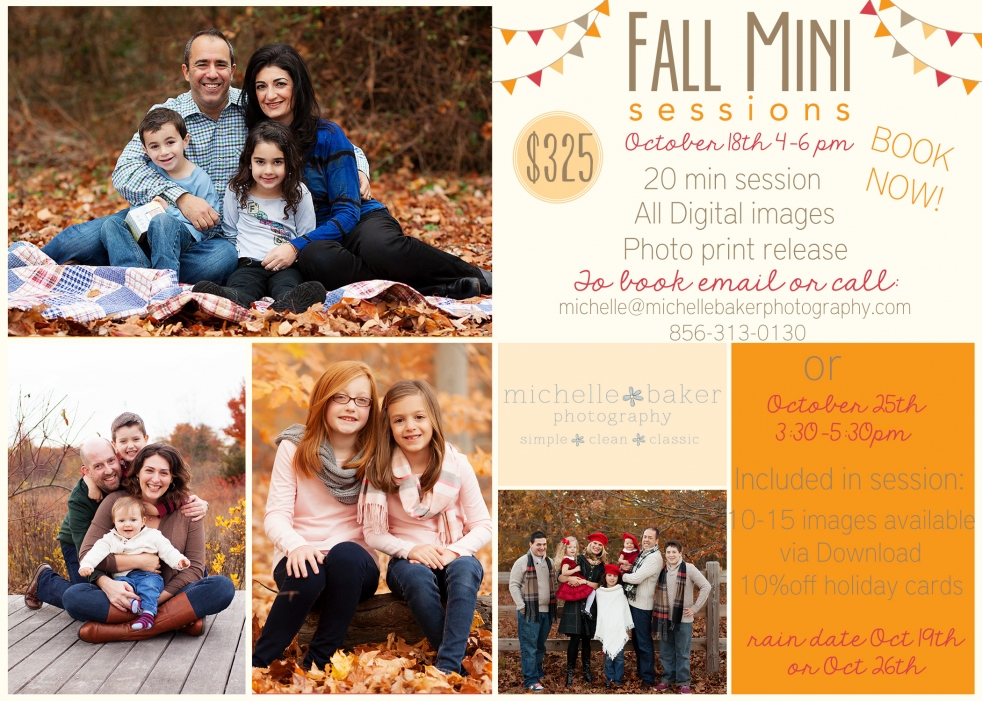 Fall Mini Session Dates:
Saturday October 18th  4:00pm-6:00pm  rain date the 19th
Saturday October 25th  3:30pm-5:30 pm  rain date the 26th
Here are some details about the Fall Mini Sessions:
You and I will have 20 min together for me to shoot your child, family and/or furry friend. Please be ready to go at your scheduled time. Even arrive a few minutes early.  If you are late, we will only have the remaining time to work together. Only 1 outfit for you and your child. Mini sessions are only offered on the dates and times above. If you need a regular session, please inquire soon as those times are also filling up fast.Immediate family only (parents and children) for the mini session.
Details:
Cost: $325 which includes session fee and 10-15  full resolution digital images. The images will be printable to any size and come with a photo print release. The digital files will be available via Download 2 weeks after your session.
If you would like to order holiday cards, they are 10% off. Full deposit required to hold your date and time.
Email me to reserve your date and time. Your date will be reserved once payment is received. You will receive a follow up email with payment informations and form to sign within 24 hours.
Dates and Times:
Saturday Oct 18th    4:00, 4:30, 5:00 and 5:30
Saturday Oct 25th    3:30, 4:00, 4:30 and 5:00
If you have any questions, feel free to email me at michelle@michellebakerphotography.com